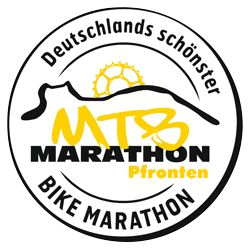 15. MTB Marathon Pfronten
am 30. June 2018
single registration
Extremstrecke
start 9:30 am
76km | 2600Hm
ab Jahrgang 2000
until March 31th 2018

32,00 €
until May 31th 2018

37,00 €
until June 29th 2018

41,00 €
deadline June 28th 2018 - Nachmeldungen vor Ort möglich (+ 5,00 €)
more ››
Start list ››
Marathonstrecke
start 10:15 am
51km | 1900Hm
Teilnehmer unter 18 Jahren benötigen die schriftliche Zustimmung eines Erziehungsberechtigten
until March 31th 2018

30,00 €
until May 31th 2018

35,00 €
until June 28th 2018

39,00 €
deadline June 28th 2018 - Nachmeldungen vor Ort möglich (+ 5,00 €)
more ››
Start list ››
Kurzstrecke
start 12:00 pm
26km | 840Hm
Teilnehmer unter 18 Jahre benötigen die schriftliche Zustimmung eines Erziehungsberechtigten
until March 31th 2018

28,00 €
until May 31th 2018

33,00 €
until June 28th 2018

37,00 €
deadline June 28th 2018 - Nachmeldungen vor Ort möglich (+ 5,00 €)
more ››
Start list ››
Klapprad WM
start 10:00 am
ca. 6km | 640Hm
Teilnehmer unter 18 Jahre benötigen die schriftliche Zustimmung eines Erziehungsberechtigten
until March 31th 2018

20,00 €
until May 31th 2018

22,00 €
until June 28th 2018

24,00 €
deadline June 28th 2018 - Nachmeldungen vor Ort möglich (+ 5,00 €)
more ››
Start list ››
multiple registration
possible for:
- Extremstrecke (76km | 2600Hm)
- Marathonstrecke (51km | 1900Hm)
- Kurzstrecke (26km | 840Hm)
- Klapprad WM (ca. 6km | 640Hm)
Simple registration for several people of associations, companies, government agencies and schools.
Event Information
Information about the registration process
Anmeldungs-Service accepts on behalf of the organizer handling the online registration and payment for the event.
The registration is done in 4 steps:
1. input personal data
2. enter additional services
3. selection of payment
4. summary
Facebook